The pantry is one of those places in your home that can quickly get out of control with clutter.  It's full of stuff, you spend a very short period of time in it, and you can shut the door behind you when you're done.  For those reasons, the pantry tends to be a problem clutter area in many homes.  These quick tips will show you how to Organize Your Pantry without difficult installations or construction.
Look familiar?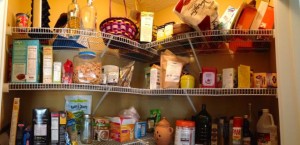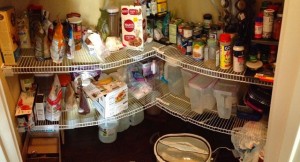 You can see in the before pictures, the upper shelves have become the home for items that really don't belong in the pantry.
Keep these tips in mind as you Organize Your Pantry:
1.  Take Everything Out.  I know this sounds like a terrible task, and it's probably the last thing you want to do.  Trust me, though.  Starting with a blank slate is the best way to create a system that works for you.
2.  Purge the Unwanted.  Get rid of anything that is outdated.  If it's still good, but you just don't want it, make a food shelf donation pile.
3.  Clean!  Wipe everything down, and clean the floor.  Simple enough.
4.  Re-home Unrelated Items.  It probably makes more sense to store those Easter baskets with the rest of your holiday decorations.  If it's not food/kitchen related, keep it out of the pantry.
5.  Line shelves with a water-proof shelf protector.  This comes in a roll, and you can cut it to fit your shelf.  It's perfect for putting under oils and vinegars.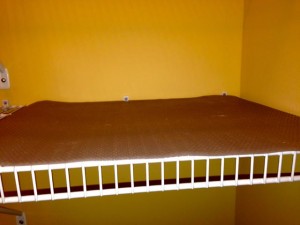 6.  Use Airtight Canisters.  Putting your bulk items in labeled canisters not only looks neater, but it also keeps your food fresher, and helps prevent spills in the pantry.
7. Consider a Spice Tray.  These create a shelf within a shelf, so all those little containers are visible and easy to grab.
8.  Re-stock from Top to Bottom.  As you put items back in your pantry, start with the top shelf, and put the seldom used or bulky items (ice cream maker and slow cooker) up there.  This is also a good place to store disposable plates, cups, napkins and utensils.
9.  Pick Favorites.  Once your top shelf is stocked, think about the items you frequently use.  Stock those at eye level or lower, where they are easy to find and accessible.
10.  Put Like Items Together.  Designate an area for canned goods, boxed items, snacks, breakfast items, etc.
And now for the great reveal…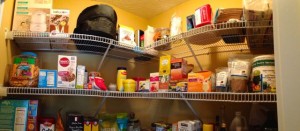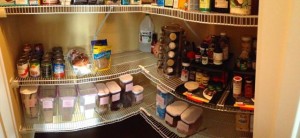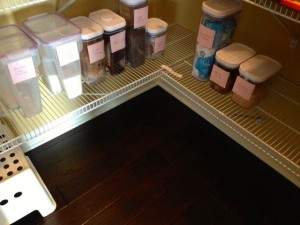 I hope these tips help you Organize Your Pantry.  Remember, the goal of organization is to create a system that you can maintain.  If your job is too big, or you just don't know where to start, I'm aways happy to get you on the right track.
Contact me at Can the Clutter.  I would love to hear your feedback, questions and successes!