Archive for September, 2010
I was recently contacted by a woman that is a semi-hoarder. On the hoarding scale hoarding is determined by things such as whether you have animals defecating on your floors and the number of blocked entryways and exits you have.
She does not have any pets, does not keep spoiled food, but does have her main doorway almost blocked.  You have to walk on personal belongings that are currently stacked at least 6 inches deep to get from one end of the apartment to the other end.
She has been working with a therapist and they have decided that it is time for her to get help de-cluttering her home. She has a wonderful happy disposition and is really ready to make changes in her life.
She wants to start off the new year with a new way of living.  She is planning to go back to school and wants to have a welcoming home that she can use for studying and for entertaining her friends.  Only 4 people have seen her home in the last 3 years because she was too embarrassed.
The first picture is taken from the front door of her one room apartment. As you can see the floor is completely covered and the door can not be opened all the way. That pink piece of furniture straight ahead is her bed.
The second picture is taken from the opposite side of the room.  Again you can see that there is no clear walking path.
Session 1
Well the first session went wonderfully!  All the credit goes to my client.
She did two key things that made it such a success:
1) Predefined Criteria – Prior to starting the session she had predefined what criteria she would use to make decisions about what to keep and what goes.
2) Public Goals – She had not only decided on a goal for the space, but she publicized it so that she would be held more accountable.
As for the criteria she set, she had recently lost a significant amount of weight.  So she had decided that any clothing larger then a certain size would be donated.  By having made this decision prior to our session it allowed her to be very decisive and objective and keep the emotion out of the decision.  She had also decided that she wanted to presort all of her craft items so she could see the volume of items and then she would later make a decision what stays and goes.  Again this is another way to be very decisive in the moment and keep the pace moving.
As for the publicized goal, her best friend's daughter (someone very dear to her) has wanted to have a sleep over at her house for years.  So my client decided she wanted to get her home cleared out not only so she would enjoy it more, but so she could finally have this sweet little girl overnight sometime very soon.  So she not only defined a specific goal to strive for, but she told the little girl she would be sleeping over sometime very soon. By making herself accountable to someone else she has extra motivation to reach her goal.
Here are a few pictures of our progress.  Now she can actually use her only closet for storing clothes instead of miscellaneous odds and ends she doesn't need.
I'm so proud of my client!  Can't wait for session 2!
Session 2 & 3
Well the next two sessions were a big success as well!
This time she applied two new strategies to help keep her focused and motivated:
1) New Furniture – By purchasing new furniture it gave her incentive to get the place de-cluttered sooner so she could start using the new stuff ASAP.  I discourage people from purchasing storage/organizing equipment until you understand exactly how the space will be used, but purchasing new items early on that are unrelated to the organization process that give you incentive to get the space organized makes good sense to me.  Now she is even more eager to get everything set up and ready for company!
2) Exposure Exercise – She applied a technique that she learned from her therapist called "The Exposure Exercise".  This requires you to write down all the items you would like to get rid of and then talk through the list with someone.  The idea is that if you can talk about getting rid of your stuff then you can do it.  Well it worked for my client!
Here are the latest pictures.  The space is almost ready for the new furniture.  Probably one more good session and she will be done!  Nice work!
Final Session
Well what a success this has been!  I continued to work with my client to eliminate excess and to begin to talk about systems that she could use to ensure she maintains her space.  At my last session we had cleared out almost the entire apartment except her desk area.  She said she wanted to try and do that part on her own which was a great idea.
Well she did it and with flying colors. Check out the new view from the back door with the new bed in place.
Not only did she eliminate the excess items she didn't need, but she established systems based on rules we had discussed along the way:
1) Smart Use of Prime Real Estate
Her desk is one of the "prime real estate" areas in her home.  This is command central for her.  So she made a concerted effort to relocate items that didn't need to be in such a valuable area and ensure she had room for the key things that needed to be there.  An example of this was her medication.  She didn't need to have all the bottles on the desk, but she did need to have the weekly pill holder there as a daily reminder to take her pills each morning when she sat down at her desk for her morning routine.
She also eliminated all the non-critical paperwork and created a drawer to hold the key pieces of information that she frequently used.  Now she doesn't lose the important stuff under the excess.
2) Personalized Solutions
One thing she learned is that it's important to know how you operate.  She realized if she didn't keep a large garbage can out in the open where it was easy to use then she wouldn't bother.  So even though it isn't the prettiest solution, it has a prominent place in her apartment.  If it doesn't work for YOU then it isn't going to work.
3) Accountability
To keep her accountable and maintain the order in her home she has asked her father, who lives near by, to make a point of always checking in on her progress.  This helps motivate her to keep the place in order.
She reached her goal of having her friend's daughter over for a sleepover, she has a clean desk that will allow her to focus on her studies and she is anxious to have others over to show off her new home.   She has been such an inspiration to me and to her friends and family members.
Where there is a will there is a way!!  Nice job!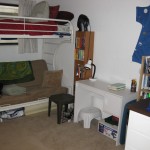 Many times when doing office organizing there is a need for storage solutions that can accommodate bulky items.  Filing cabinets are ideal for filing papers, but why use them for other storage when you can use something more warm and inviting.
This shelving unit with baskets was purchased so it could hold various "project" related materials that were bulky and unsightly.
Many clients have a need to group together materials of varying sizes that are related to a project or ongoing activity.  Having them on open shelving can add to the cluttered look of the office.  This solution allowed us to keep the random items together, but keep it contained in a way that was much more appealing.
Since the client was a decorator she was even more excited then most that the solution was functional and pretty!