Archive for February, 2011
Do you need some incentive to get organized?  Need to better understand why it's worth your time?  Check out the article that I just wrote for the Eugene Chamber of Commerce. Eugene Chamber Newsletter.  Hope it helps!
I recently worked for a client that wanted to be better organized so she could do scrapbooking when she had some free time.  She actually is a cancer patient and I was hired by her friends to help her create this sanctuary for her downtime between treatments.  What a wonderful gift to give someone!
Like many of us she didn't have the luxury of having an extra room that she could dedicate only to scrapbooking, so we needed to create a way to "set up"  the area when she was ready to be creative.  This included having all the supplies close at hand and easy to move from the storage area to the work table.
We started off by eliminating any excess furniture and accessories in the family room so there would be room to set up a folding table to use.  We cleared out the hall closet as well so the folding table could be easily stored away there when not being used. Since part of her goal was to have the space be tranquil and calming, she decided to have a beautiful table cloth that she would use to cover the ugly beige table when it was being used.  Such a great idea!
She was fortunate to have a large cabinet in the next room that we could use for storing all the supplies.  It currently held many of the scrapbooking supplies, but was in disarray.  The items desperately needed to be sorted out and organized.  So our next job was to clear out the broken, unwanted items and to sort items of similar nature so it would be easier to find what she needed.
Her goal was to create one scrapbook for each member of the family so we decided to have one collection box per person.  These would be used for collecting items (pictures/memorabilia).  These were placed at eye level within the cabinet so it would be easy to drop in items as she ran across them.  Then when she was ready to sit down and get to work she could just take that box and the other scrapbooking supplies and dive in on her pretty new temporary table.
Although becoming a little tired during our sessions she was motivated to get the job done.  It was a small focused project and the results were achieved after only 6 hours (although she did do some work on her own between sessions).
Since she gets such happiness from fun, vibrant containers I recommended that she purchase new ones after she made sure the process was working well for her.  Always, buy the containers after you set up your organizing systems, never before.  Hard to retrofit a process into the wrong container.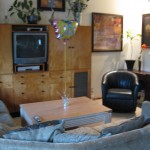 She was so excited to finally make herself a priority and to take time to do something that she thoroughly enjoyed.  And how wonderful to have it set up in a way it was quick and easy to access on a whim. What a wonderful gift this was from her friends and what a rewarding project for me.
I know I'm a bit biased, but doesn't everyone enjoy being organized?!