Archive for August, 2011
It is quite common today for professionals to work out of their homes. One client I recently worked with is a Mary Kay Sales Representative who has a home based retail business. Because she sees clients in her home, she needed a work space that was inviting, professional, and efficient.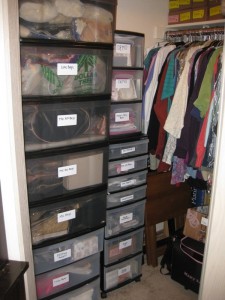 In order to make this happen, we needed to rearrange things. We chose to minimize the clothing in the closet so we could move the "not so attractive, but functional" plastic storage drawers in there. We also then clearly labeled the storage drawers to make things easier to find. We even organized all the products by expiration dates to ensure they were FIFO (First In First Out). After setting up and organizing this new system, we were able to rearrange the rest of the furniture in the room to make it more open and inviting for clients.
Next we needed to create an efficient paperwork management system so order forms, marketing materials, etc. were easily accessible and not cluttering the room or distracting for clients. The new system we set up allowed for the focus to be on the beautiful packaging of the products. A perfect fit for a home based retail business!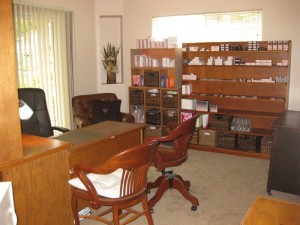 I'm so excited for my client (and so is she!) to have prospective buyers enter her "made-over" home office space. Now they are greeted with a tranquil setting, and she is highly efficient when it comes to finding the right product and paperwork to close the deal. Productivity improvement indeed!
Being organized doesn't just have to be beneficial when applied to your home and work spaces, but has great rewards when applied to your extra-curricular activities too.
Since summer is a great time to get outside, I took advantage of the opportunity to go camping with some friends just a few weeks ago. Let me just say I was quite impressed with the way they organized their campsite! Their thoughtful way of doing things really allowed for them (and me!) to get the most enjoyment out of the entire camping experience.
Some of the smart, yet simple, organizational solutions they used included:
Hanging up the paper towels by wire so they were out of the way yet easy to reach.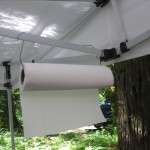 Labeling the tops of cans so you didn't have to pull everything out of the deep containers to see what they were.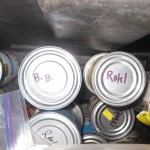 Sleeping on cots allowed for a more comfortable sleeping experience and created a great space underneath to store bags.
Labeling the tops of all the coolers to show what was available in each layer of ice (No more cold hands!)
All in all, by adding a little organization to the camping trip, the cooking and everything else was that much more enjoyable. I encourage you to not be afraid to add organization to all of your extra-curricular activities. The overall experience is sure to be noticed and appreciated!
Many times in working with clients I find that they save stuff with the idea that they will reuse it. Great idea, right?! Unfortunately though, I find even with the best of intentions, the items, instead of getting reused, actually create clutter in the client's living spaces.
Some of the most common items I find clients keep with the idea to reuse include: grocery bags or sacks, extra napkins, straws, or plastic silverware from fast food restaurants, and boxes. I have seen multiple closets, garages, and basements filled with bags of bags and boxes of boxes. So what good is this really, even though it started with the best of intentions and felt like the "right thing to do"?
In working with clients that this seems to be the case, I have a couple of suggestions:
1. The first is to be sure and put the items you intend to reuse in a place that they will actually get used and that makes the most sense for you. An example is to place the extra napkins to be reused over where you pack lunches or have your paper towels. Another example comes from a client of mine that collected tons of small pads of paper. Yet overtime she left me a note that she wrote on a small corner of a ripped out magazine page! Instead, she needed to keep the paper pads where she would naturally go to grab a piece of paper to write a note to someone.
2. The second suggestion is to ask yourself, "Are the items to be reused coming in faster than you can use them up?" If so, the better idea might be to donate or recycle them. If you donate the items, others are usually happy to use them and then you aren't just throwing things into the trash.
Reusing items is definitely an earth friendly and smart alternative, but it can also have a negative impact on your life if you aren't able to carry through with your idea. When items begin causing you stress because you have a cluttered house, it's probably time to make a new plan. It's never too late to re-evaluate your good intentions!