Archive for October, 2011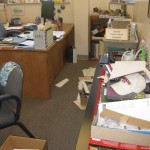 One of the most important steps I take when first working with a client is to understand exactly why they personally have piles. It may seem like everyone has the same issue since the piles often look the same, but actually the reason for the build-up can vary greatly.
Here are just a few examples of root causes and the different approaches taken to solve each particular problem:
- Problem: Save way too much!
- Solution: The focus needs to be on asking the hard questions about what exactly should be kept. Do NOT create new systems to house all that stuff!
- Problem: No place defined as the storage area for a particular type of belongings.
- Solution: The focus needs to be on space management and setting up storage areas/filing systems for belongings.
- Problem: Need items in your face so you don't forget about them.
- Solution: The focus needs to be on setting up other "triggers" to remind you so you don't need the actual documents/items piled up as the reminder.
The list goes on and on. It's amazing how different the issues can be for each person. Have you ever purchased an organizing apparatus and months later found it disbanded in the closet? Probably because the root cause of your disorganization was not solved by that solution.
It's important to solve the mystery first before implementing any solutions. If you are struggling to understand your root cause, then hire an organizer to be a fresh set of eyes for you. Professional organizers are skilled at being able to pinpoint the actual cause of your disorganization. You'll be amazed by what you'll learn!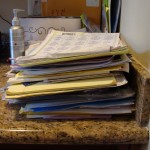 There are many reasons people save way too much paper.
1) Someone took the time to print and hand this to me so it must be important enough to keep.
2) A tree died to create this so I should keep it as homage to the tree. (This happens a lot in my neck of the woods where everyone is very environmentally aware!)
3) I or someone else may need this information sometime.
4) This information was important enough for me to bring into my office/home, so I should keep it.
If you want to stop hoarding paper then you need to begin to ask yourself a series of hard questions to let go.
- Do I REALLY have a plan to use this?
- Can I find it somewhere else on the off chance I may need it (i.e. Internet, colleagues office, library, etc.)?
- Will it most likely be outdated by the time I need to refer to it? Is it already outdated now?!
- Do the advantages of keeping it outweigh the disadvantages? (Is it a rare possibility I'll be asked for it versus the stress I feel from having too much stuff/paper?)
- What are the retention rules at work? Is it a violation of policy to actually keep it? Should I make similar rules at home?!
My suggestion to those of you who keep way too much paper is don't just keep it out of a sense of guilt or obligation. Have a plan for when you will be using it, or let it go. Simplify your filing systems so you can be more efficient and find the truly important stuff much faster.
Organizing is a personal thing. Each individual or boss has their own unique way of thinking about and organizing their belongings. In addition, when asking for help getting organized, most people don't really understand what the main issue is that needs to be addressed. They just see the piles and know they need to "get organized". The piles may all look the same, but the root cause can be very different.
Not all administrators are trained to be able to diagnose the problems that arise in business organizing. They are stellar at maintaining the order, but understanding and solving it is an entirely different thing.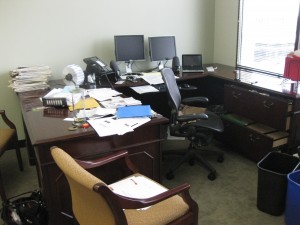 In my line of work I see it quite often that a boss has asked their administrative assistant to organize them, but things don't end up going as planned. Sometimes it is because the job never really gets done and the boss doesn't understand why. This only leaves both parties frustrated. Or I have seen that what the administrative assistant does is set up files for every single document the boss has. If the real problem is that the boss saves way too much stuff, then the filing system may look nice but it doesn't eliminate the root problem.
Other times I see that the administrative assistant will set up nicely labeled files but that there is no logic to the placement of them. The problem here is that the system doesn't allow the boss to be able to quickly locate things when he/she needs them.
For truly solving the organizational issues and setting up the systems that will allow an individual or boss to maintain the space properly, it is important to hire a professional that can diagnose what the core issues are, help the individual/boss better understand them, and then of course solve them! From then on, the individual or boss can rely on the administrative assistant to help maintain the systems. In the end, both parties will be much happier and way more productive!