Archive for April, 2012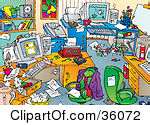 Do you have a room that is overflowing with stuff?! Are all the surface areas covered, including part of the floor? Do you find that when you actually do have the time to clean it out and organize it that the surface areas fill back up in no time?
For many people when they finally take or have the time to begin cleaning out and organizing an overflowing room, their natural tendencies are to start with the surface areas. But here is an interesting thought to consider. In many cases the reason the surface areas fill back in quickly is because people often start with the surface areas and then lose their momentum and never make it to the hidden
areas of the room (i.e. inside closets, dressers, etc.). So when new things are brought into the room, they haven't made any space for the new things to go, so the only option is to store them on top again! This creates a viscous cycle which can be very frustrating.
I challenge you, when you do finally take or have the time to organize a room, don't make the common mistake of starting with the things you can see. Instead, start with the things you can't. In most cases the items that you haven't seen or needed for a long time are the easy candidates to discard. This allows you to get rid of an even larger amount of stuff. The end result…you free up even more space! More often than not, the things on the top are the newer items that you want to keep (or at least haven't made your mind up about yet), but those items on the bottom or packed away are usually very easy items to let go of.
Of course, once you're done with the hidden areas, then it's time to start on the surface areas.  But this time, instead of picking up items and just setting them down again in the same spot, you will have an option to store them away.
Doesn't it feel good when those vicious cycles are broken?!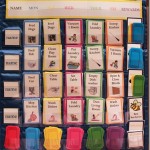 Lately I have had several clients who "know how to organize" call me for help. It makes sense actually as they understand and have seen the value of being organized. They know being organized keeps them running their home and office at top capacity, and they know it keeps everyone's stress levels at a minimum. So when they see the need, they do what they can to make it happen.
The reasons organized people call professional organizers…
1. Time – This is a big one. It can be that they don't HAVE the time or it's not the best USE of their time. This may be the case for busy professionals that are highly efficient in their jobs and see the value of optimizing the way they work, but simply don't have the time to do the same level of optimization at home. It can even be that they see that their time is better spent elsewhere and outsourcing that task makes much more sense. Stay-at-home parents are another typical category. They feel their time is better spent focusing on their child's development and extracurricular activities versus spending time maintaining the space. It's all about priorities and where you feel you should focus your time and attention the most.
2. Fresh Perspective – We all at times value other's advice and a "fresh set of eyes", and this is no different for organized individuals.  By providing another or different point of view, organized individuals are then usually able to implement those strategies and ideas on their own. This happens a lot when someone has been in their space (home or office) for a longer period of time and have just gotten "use to the way things are". It can even be that you are new in the space and want to set it up "just right" from the beginning.
3. Resourceful - Another big benefit in using a professional organizer is that they are very familiar with the various products on the market and can recommend a product or solution you may have never seen before. And better yet, professional organizers know (or can find out!) whether a product is considered a "good" product/solution as they tap into their contacts nationwide to get feedback on the various tools/approaches.
4. Extra Help – Lastly, there are just those times when organized individuals want the extra "arms and legs" to get the job done faster. This is largely in part because organized people value the end goal and realize that getting organized sooner than later is a smart move.  Maybe you thought you had the time to start a project, but then realize you never seem to have the time to completely finish it (which is even more frustrating for those that thrive on being organized!)
All in all, even though organized individuals are capable of being organized, there are really good reasons they call in some help. Don't let the fact that you "know how to do it" stop you from getting help. Think about how wonderful it will feel to finally get it done. The bonus part is…you know you're capable of "keeping it organized" once you get it set up right. So go for it. I love working with other people that value the use of space and smart systems for keeping their lives running smoothly!
With glimpses of Spring every now and then, many clients are feeling Spring fever and are looking for ways to organize their garages. With that being the case, I have been doing a lot of investigating of garage storage solutions and have even requested feedback from other organizers around the country to see what products they have used and recommend. Below is what I have learned and some possible solutions to consider when looking for ways to safely store large yard tools (i.e. rakes, etc.).
Organizer Comments: "I just put this system in a 4 car garage in a $2 million house. The client loves it and I must say it looks like a million bucks. It went up easy too." "We love our Rubbermaid system in our garage. It is versatile & very sturdy. We have two kids under the age of 4 and it has been very safe."
Pro: Inexpensive. No need to have tools specifically lined up with studs. Bar is fastened to studs and then tool hooks can move along the bar. Provides good flexibility with adding and removing accessory items.
Con: Things are lined up horizontally. With grids you can pack things more densely.
Price: $40
Where to buy:  Jerry's, Home Depot, Lowes
My Comment: I personally have this and really like it. You can put one above the other to allow you to store things more densely.
Stanley Multi-Tool-Red-Vinyl-Coated-Straight-Storage-Hook
Organizer Comment: "Very sturdy and inexpensive way to store yard tools."
Pro: Inexpensive
Con: Takes up a lot of wall space since hooks must line up with studs in wall. Looks like a more piece-meal solution.
Price: $1.47 each
Where to buy: Online and in local stores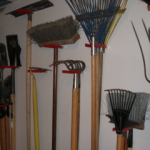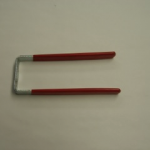 Organizer Comment: "My client has this one and it is very sturdy."
Pro: Great condensed use of space. Lower priced alternative considering the number of tools you could put in one unit.
Price: $42.69
Where to buy: Online and in local stores.
My Comment: Sterilite makes excellent products, but I have never used this type of product from them. Be sure to test this one out and make sure tools are easy to insert and retrieve. Also make sure it is sturdy and stable.
Organizer Comment: "Highly recommended for being a sturdy solution."
Pro: Great use of space by providing the shelving and hook area combined.
Con: May be pricey.
Price: Unknown – not on website.
Where to buy: Online
My Comment: A client of mine has this and loves it.
Tall Garbage Can on Wheels (no picture/link)
Organizer Comment: "Highly recommended for being a sturdy solution."
Pro: Very inexpensive. Great use of space.
Con: May be difficult to retrieve tools.
Price: Varies, but inexpensive.
Where to buy: Anywhere!
My Comment: May not be what you are looking for, but I always want to include a wide range of options.
Organizer Comment: "I highly recommend grid wall systems for garage storage – weed eaters, heavy items, etc. Grid wall units are durable and strong. I like it better than the Rubbermaid system because it is more versatile and you can pack it more densely."
Pro: Great use of space.
Con: More expensive.
Price: $180 for one grid and starter kit of accessories.
Where to buy: Online, but possibly in local stores as well.