Aging the Organized Way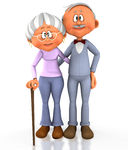 Whenever I work with aging clients I always encourage them to go through their belongings to eliminate the excess and clearly identify what is most important to them.  This helps to ensure their children will have an easier job going through their belongings when they are gone. Even when this work has been done, it often can still be a very difficult time for the children when they are faced with making decisions on who gets what, what should they keep, and so on.
I had an interesting discussion not long ago with a client and I had to laugh because she came up with a whole new marketing idea for me. Honestly though, she may be on to a really good idea that all of you should consider.
The client had attended one of my presentations about downsizing and she was sold on the idea of the importance of having someone help you during stressful times. She actually took my business card and put it in her safe along with her other vital documents. She included a note to her children saying that when she and her husband are gone they should call me first so I could help with the process
of going through their belongings.
Here is exactly what she said…
"I figure that you're about my kid's age, so you'll still be around…… Your business card & brochure are in our safe with a note on top reading "Call Jan Lehman!" My husband and I are confident that with you at the helm, our children, during a stressful time, will be steered in the right direction. This decision was made because of your presentation & learning all the services that "Can the Clutter" offers. Thank you, Jan!"
Whenever I help a client set up a new filing system, I always insistent that they create an area for storing their vital documents that can be easily found by loved ones. Maybe I should start including a note in there to call me for help!
If you feel your children could use a mediator or someone to help them get through the stressful task of going through your belongings once you are gone, you too should put a note in your Vital Records file saying "Call Jan Lehman of Can the Clutter". It may be the best gift you ever give your loved ones!