Get To Know Us
What CAN we tell you?
Background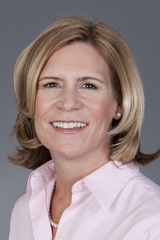 Jan Lehman is the founder and president of Can the Clutter®. Jan graduated from Indiana University Kelley School of Business with a B.S. degree in Operations and Systems Management, and with a minor in Psychology.
She spent 17 years working in corporate America, (Accenture, Kraft Foods North America and Kraft Foods International) helping companies streamline and optimize their business operations and daily work processes.
Today, Jan wears many hats. She is a wife and mother, which has added to her skills. She CAN relate to all her clients. As a professional organizer and efficiency coach, she reassures those she serves. She listens, she explains, she cares.
She CAN understand the importance of organized spaces in home and work spaces, and how this adds to physical and mental wellbeing. Her knowledge and proficiency with systems management, operations, and work processes enable her to easily identify what is most troublesome and most useful in your space.
Remember not to let Jan's corporate systems experience intimidate you. She's the first to tell you, "I'm a wife and mother of young children, so don't get me wrong; I still have Goldfish crackers smashed in seats of the car, and drops of apple juice stuck on my kitchen floor. The only difference, as an organizational specialist, I can actually find the bag of Goldfish crackers, to replace the crushed ones and stop the crying." –Jan
Jan is a mother of three children, seven and under. That alone is a reference most appreciate!
Jan has a team of professionals that assist her on many jobs. This allows them to quickly make progress on even the largest projects. It's also an effective use of your time since many project areas get tackled in the same block of time. Since the extra resources are billed out at a lower rate it also saves you money in the long run. A win, win!
Professional Affiliations
Can the Clutter® is proud to be a member of the following organizations:
National Association of Professional Organizers (NAPO)

Eugene Chamber of Commerce

Women's Business Network

Faithful Organizers
Service Areas
Providing CAN THE CLUTTER organizing service to Eugene /Springfield, OR—and surrounding areas.
Hours of Operation
8:00 a.m. to 5:00 weekdays
At special request, nights and weekends are available. The bottom line, we are here to help you when you need us, and when our organizational service least disrupts your household or workplace.
Fees
Can the Clutter® charges an hourly rate. We accept cash, check, paypal or credit cards (Visa, Master Card, American Express or Discover Card).
Contact us and we will be happy to discuss our affordable, competitive rates.
Insurance
Can the Clutter® is fully insured. Jan's married to an insurance guy, enough said!