We recently received a very heartfelt testimonial from a home organizing client.  This letter shows how personal organizers can truly change lives.
Linda Marlin of Plymouth, Minnesota writes the following about her experience with Can the Clutter, in particular Personal Organizer, Marcia Yockers.
I have been struggling with clutter control most of my married life. I am married to a man who loves to collect everything! Over the years, I have accumulated many items from all of my creative hobbies – scrapbooking, decorating, crafts, photography, collecting pretty glassware, home décor, party supplies, painted furniture – you name it, I have it! It's all neatly organized and stacked in plastic bins, but nonetheless, it all takes up space.

Then four years ago, my husband and I were forced to downsize when we moved into a very small duplex. We got rid of a lot of things, however, we still continued to feed our habits and before we knew it, we were overflowing with so much more stuff! I would joke to family and friends that my husband was bringing things in one door as I was carrying things out the other!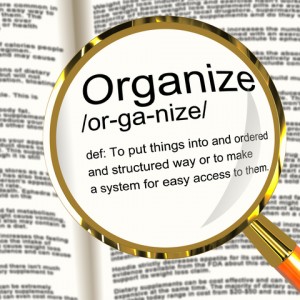 Just recently, my husband was diagnosed with a neurological disorder similar to Parkinson's disease, and our world has changed almost overnight. One of the things the doctors have emphasized is that less clutter means less distraction. Not only do we need to stop saving everything like we have been, but now it is crucial that our environment be simplified and functional; especially as my husband continues to decline from his disease.

I have been trying to clean and clear out for years. I have felt the need to simplify our lives for quite some time now. What was frustrating me was that I am a very organized person, but I somehow just couldn't do it anymore. My brain was numb. I felt so stuck.

I saw an ad for a class in downsizing held at our local Community Center in Plymouth, and I was drawn to signing up for it. I was so impressed with Can the Clutter! I knew before the class ended that I wanted to have a consultation. I immediately booked an appointment, and Marcia Yockers came to our house.

She was warm, sincere and very professional.  Most of all, she listened as I told her my life's story of how holding onto "things" was all but destroying my marriage and most definitely my sanity. When Marcia visited me, we had just had a huge garage sale the week before, and we still had a garage full of things that we didn't even have time to price for the sale!

What struck me more than anything else was that Marcia listened to my concerns, did not judge me in any way, and provided loving and constructive ideas for how I could maximize what space we do have. She gave me so many creative ideas of how I could change the little things in my home that would make a big difference moving forward. She validated the things I had already implemented to make our living space as cozy and comfortable as possible, and she took notes and offered wonderful suggestions on how I might want to consider other possibilities that would make living where we are more manageable.

What I needed more than anything was an impartial 3rd party that could objectively look at our situation and offer suggestions and advice on how to make living in our small space easier and healthier for both my husband and me.

I felt such a weight lifted off my shoulders after my consultation with Marcia! I know there was psychology involved with listening to my specific challenges and needs. I have much clearer direction now after my visit with Marcia, and I am so happy to report that I was able to implement many of her suggestions within 24-48 hours after her visit to our home.  It has already made such a difference in our environment!

Whether you need actual physical help with clutter control (or as in my case, a consultation with an exchange of ideas and concerns), Can the Clutter can seriously make all the difference in the world to someone struggling with "too much stuff".

Thank you, Marcia, for your loving and caring presence in my home. It was such a joy to work with you!
It's experiences such as these that define our work as organizers and our mission of helping people live more organized, less stressful lives.