No doubt there are plenty of fancy organizational gadgets, systems and containers on the market.  Many of them work wonders, while others sound good in theory, but don't actually work in your space.  Using temporary organizing solutions before committing to permanent or pricy options can save you time, money and stress!
For example, a Can the Clutter client was struggling with never-ending piles of mail.  The bottom of the pile was never in sight.  Sound familiar? She did what many of us do in similar situations.  She spent a lot of money on what seemed like a good solution.  It was expensive, so it must be effective, right?  Not so, in this case.  Not only did her elaborate mail sorting system not work for her, but it eventually made the problem worse.  Not wanting to let go of a "perfectly fine" item that she "spent good money" on, the now-abandoned mail sorter just turned into (you guessed it) CLUTTER!
Follow these three rules of Temporary Organizing Solutions to prevent your solution from becoming your problem.
1. Evaluate Your Struggle.  Make a list of what's unique about your situation, what specific goals you have and any barriers (logistical, structural, financial) that you foresee.  In the case of the mail, had the client evaluated the quantity, size and type (magazines, letters, bills, etc.) of mail, she would have realized her purchase was inappropriate.
2. Test Your Temporary Organizing Solutions First.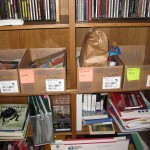 Don't worry; you don't have to be an architect.  Simple household items, like shoe boxes, large envelopes and empty canisters can give you a good idea of what kind of containers you'll need.  The picture at the side is an example of using cardboard boxes instead of nice baskets for sorting out the huge volume of mail.  If you're struggling to think of a solution, consider consulting with a Professional Organizer.
3. Invest in the Real Deal.  Once the solution has been tried and proven with the temporary solutions, you're ready to invest in decorative containers or a more permanent fixture that you enjoy seeing.
The purpose of reducing clutter is to help you be at peace in your space.  Taking the time to devise a solution that is not only functional and effective, but also aesthetically pleasing is what getting organized is all about.