ADD/ADHD and Clutter
For people with ADD or ADHD, "internal mental clutter becomes external physical clutter", says Jane Massengill, LCSW and certified ADHD coach. To prevent the pileup and lessen the stress-inducing effects, here are some tips for people with ADD/ADHD or other brain-based challenges (Chris Iliades, MD everydayhealth.com):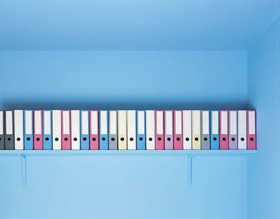 Tips For Canning Clutter
Schedule Everything!
Tackle forgetfulness and procrastination by scheduling your errands and chores. A method that works for each individual is essential. Whether it's a day planner or a sticky note, if each task is assigned a specific day and time, the likelihood for pileup is less severe.
Finish What You Start
For people with ADD/ADHD, finishing one task before moving on to the next will help battle symptoms of inattention and distractibility. Dr. Iliades uses the example of doing laundry. Because it's so easy to throw in a load of laundry and forget about it, avoid the desire to start another task in the meantime. Rather, make a note of what needs to be done, and add it to a planner or sticky note.
Practice Smarter Shopping
Because compulsivity is a symptom of adult ADHD, you may find yourself coming home with items you don't need, adding to the clutter. Remember to always bring a list and a calculator, and keep a running total as you go. Also, if it works for you, bring only cash, that way, it's impossible to get carried away and go over budget.
Color-Code
Color-code your desk. The disorganization that comes with adult ADD/ADHD can lead to piles of unnecessary papers, lost bills, and misplaced important documents. Color-coded folders or bins can help keep paperwork in order.
In addition to Dr. Iliades tips, organizer Debbie Bowie shares some insight on what she learned about ADD/ADHD in working with Coach Approach, a coaching program for Professional Organizers. She states "people with ADD/ADHD have problems with awareness, engaging in action…and completing action. All those abilities are required for a person to get and stay organized. And, people with ADD/ADHD are also hampered by low self-esteem and negative self-talk that comes from years of not being able to take action." Understanding these behaviors and accepting them for what they are can make a world of difference when a client, friend or loved one is challenged with ADD/ADHD.
Clearing your mind (for anyone) is harder than it sounds, but may be the most important way to keep clutter in your life to a minimum. Massengill says, "When your head starts to feel fuzzy…slow down, take some deep breaths and focus. You need to decide what to keep and what to let go of inside your mind and outside in the world around you. Clutter is physical and mental. Take care of the mental and the physical will follow."
At Can the Clutter, we help many people with ADD and ADHD get organized and maintain order in daily life.  We can design a plan of action that meets your individual needs.  You no longer have to feel ashamed or guilty about your struggles with getting organized.