Closet Organizing Services
One of the first things that you do every morning is going to your closet to pick out a set of clothes for the day. This sounds simple enough but if your closet is a cluttered mess, it can be a real hassle. Rummaging through a disorganized closet in search of clothes is a stressful way to start your day. Instead of putting yourself through this frustration every morning, allow some professional organizers to get your closet in order!
Can The Clutter is a first class organizing company that is owned and operated by local women. We use our masterful organization abilities to help homeowners throughout the Twin Cities metro to keep their living areas clean and orderly so that they can enjoy peaceful, healthy lifestyles.
The Premier Closet Organizing & Decluttering Services
Whether it's a reach-in or a walk-in, every closet can be reduced to a cluttered mess if steps aren't taken to arrange clothes and other items in an orderly fashion. Some people make the mistake of trying to store too much junk in their closets, making them inaccessible and disheveled. Childrens' closets are often total disasters, becoming a haven for dirty clothes, scattered toys and neglected schoolwork.
The organizing team at Can The Clutter can declutter and reorder every closet in your home, from the big walk-in in your master bedroom to the little reach-ins in your kids' rooms. Let our pros spend a few hours with your closets and we'll transform them from junky messes that stress you out into carefully ordered storage areas that bring you peace.
The Best Organizers in the Twin Cities
At Can The Clutter, we know that an orderly closet is one of the key factors of a peaceful home. Our staff strives to help residents of the Minneapolis-St. Paul metro to get their homes decluttered and to teach homeowners our strategies so that they continue to maintain an organized house long after we're done. Call Can The Clutter today for proficient closet organizing services in the greater Twin Cities area!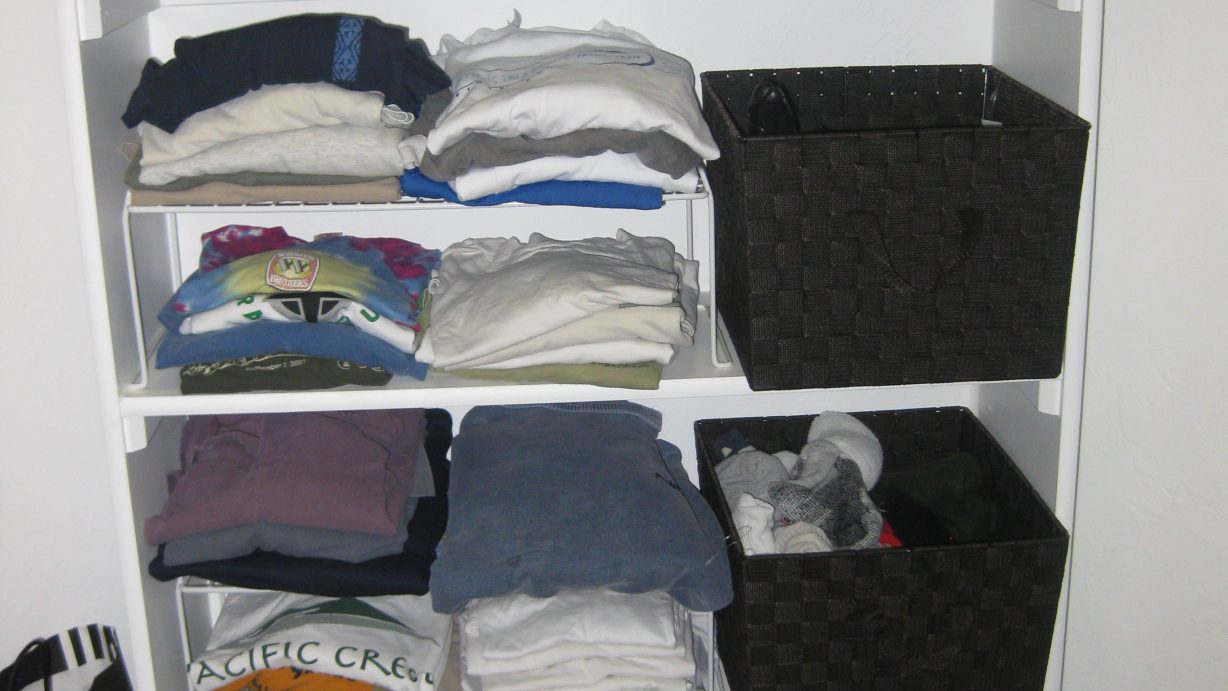 Reviews
"Marcia was great. She and Maggie (daughter with ADD) spent two hours working in her room. I have a nice pile to take to Goodwill! We are going to have her come back in May when Maggie comes home from school for the summer. We both felt it was well worth it and I would recommend Marcia highly to other people."
"Catherine is great to work with and is very professional and friendly. She is easy to talk to, positive and encouraging, and doesn't judge. Both of our children recently moved out permanently, so we're repurposing their rooms. Catherine helped talk through the things we have accumulated and helped make good, quick decisions. We would highly recommend Can the Clutter if you're having trouble figuring out where to start with reorganizing or decluttering."
"Recently, I engaged Marcia Yockers to help me handle the possessions of a friend who was moving out of an apartment to live in a long term care facility. From our very first meeting, I felt very comfortable in letting her handle different aspects of this assignment. Marcia was very efficient as we worked through each phase of the project. She had good ideas on the best way to handle different types of property. I would highly recommend the use of her service as it saved me a lot of time and the project was completed on time and on budget. It allowed me to focus my time on my friend rather than her things."