Not every household or business needs a scanner, but when it makes sense to cut down on paper clutter and store records electronically, a scanner can be an immense help. If you think that a scanner will help you with home or business organizing, it's worth thinking through what you will need in a scanner before you purchase one.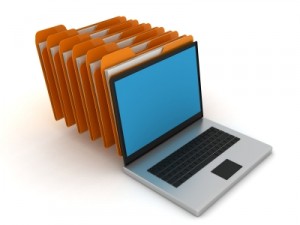 The first things to consider when you're looking for the right scanner are: where you will use it and what will you be scanning most of the time? A standard flatbed scanner on your desk may be perfectly sufficient for your needs. If you need to scan things while you are away from home or the office, perhaps an app on your smartphone will fit the bill. And there is other specialized hardware available if you need a mobile scanner and don't have a smartphone (or don't want to rely on one).
Here are a few options that showcase the range of scanning solutions available:
Space saving desk scanner by Scan Snap
If you don't necessarily need a high level of portability but do a lot of scanning and are sick of opening your copier to get the job done, then this may be the machine for you. Scan Snap scans about anything and quickly. It scans up to 12 double-sided pages per minute. It has a 10 page automatic feeder. It can scan to Google docs, Dropbox, pdf creator, Word, Excel and many more programs. It can also scan pictures and business cards. It costs around $260 and is compatible with both PC and Mac. The reviews on Amazon are great and it also has a video to show you all the functions. Check it out on Amazon.
Neat Receipts
This is a mobile scanner that plugs into your laptop to operate. You can scan documents such as business cards, receipts, documents on the go and organize them on your computer later. It's available for both PC and Mac.  There are similar systems to this out there as well. The cost for this one is about $200 and you can check it out here.
Portable Scanner Wand
There are many different portable scanners to choose from. I always recommend looking at the reviews before purchasing. I find that amazon.com is a great resource for this and is often less expensive. One wand type product they had that had overall good reviews was the Wolverine Handheld. Rather than running papers, cards, pictures and such through a machine, you wave it over the page and it scans to a sd memory card (usually not included). This particular model is battery operated and is compact enough to throw in your purse or briefcase. The costs vary but you can get a good one with a memory card for under $100. Here's one on Amazon.
Scanner Apps for your smartphone:
Business Card Reader App for iPhone or iPad
This app is solely for business card scanning.Take a picture of the business card and it adds it into your contacts. Great for business people who don't have time to go through and add to their contacts. Also cuts down on lots of little business cards lying around everywhere. Great cost of $4.99. Get it on iTunes.

Genius Scan App – PDF scanner for your iPhone
For people on the go this is good. It enables you to scan documents on the go and e-mail them as a JPEG or PDF. This app is available in iTunes and has the great cost of FREE! Check it out on iTunes.
CamScanner, a scanner for Android phones
This free app works on most Android phones. You can take pictures of receipts, documents and other items, choose what file format is best for you (PDF or JPG), and then either save the file on your phone or email it immediately so you won't forget. With no upfront cost, it is certainly worth a try. Get in at Google Play.
Whatever your scanning needs, there is something out there there that will suit you perfectly. Once you have your ideal scanning hardware (or software), you're taking another step on the path to getting organized.