Even the simple thought of getting organized can be anything but simple.  It can feel quite overwhelming, especially if you have goals and challenges in every room of your home.  The best thing to do is start small.  Breaking it down room-by-room and tackling one project at time can help you get control of your clutter once and for all.
Getting Organized Room by Room
Entryway/Mudroom
This is the first impression of your home.  It sets the tone when you walk in the door.  Encountering clutter and chaos before you even have your shoes off can increase stress and anxiety.  Getting organized is proven to minimize those negative emotions.  Starting with the front door is a great place to start.
If your space is limited, add a tall coat/hat rack.  Not only does this provide a home for your jacket, but it can also add some character to your decor.
Bins, bins and more bins.  Even better, assign a bin to each person in the home.  Looking for that lost flip flop?  Check your bin.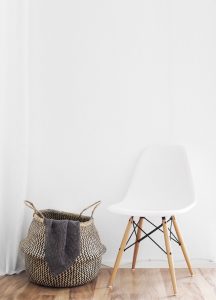 Kitchen
The kitchen is the heart of the home.  It's where guests and family tend to congregate.  For that reason, it can be a target for clutter.  Keep these tips in mind when getting organized in the kitchen.
If it doesn't belong in the kitchen, get it out of the kitchen.  Sounds simple enough, but because we spend some much time here, it can quickly become a dumping grounds for homework supplies, craft projects and junk mail.  Decorative bins (yes, more bins) are perfect for disguising the non-kitchen items, if they must remain in the room.
Before you do your weekly grocery shopping, take 10 minutes to tidy up your fridge and pantry.  Dispose of any expired items and leftovers.  Wipe up spills and crumbs.  Get that can of soup off the the cereal shelf and back with its canned companions.  Still struggling? Here are 10 Tips to Organize Your Pantry.
Living Room
The living room can be overlooked when it comes to getting organized.  We live here, right?!  It's not a museum.  Its a home.  It's going to have stuff, but that stuff does not have to take over.  Think beauty and aesthetics when it comes to this room.
Add a few decorative pieces that make you feel happy, rather than stressed out by their cluttery presence.  Enjoying the beauty of your space will motivate you to keep it organized.  A pretty lamp, an exotic houseplant or a decorative table can spunk up your space and inspire your inner organizer!
Explore functional furniture.  A trunk can double as a decorative coffee table and a storage space for your extra throw blankets and pillows.  End tables with storage can hide board games and magazines while adding to your decor.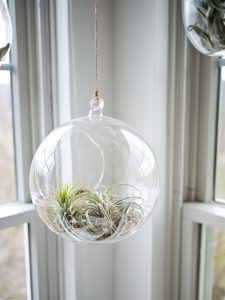 Bathroom
Want to solve the mystery of the disappearing hair ties and bobby pins?  I'm pretty sure all 600 of them are somewhere in the bathroom.  (Sigh!)  Even Professional Organizers struggle!  Again, we live here; we have stuff!  Keep bathroom clutter to a minimum with these tips.
Invest in a few cosmetic organizers like this one or this convenient corner organizer.  Having a place for each item not only ensures that it won't fall into the black hole of that drawer, but it also helps prevents spills and breakage.  There's not much worse than a spilled bottle of red nail polish on your granite when you're already running late.
Remember the weekly kitchen clean-up?  Do this in the bathroom, too.  Monthly is ok, as there aren't as many perishables.  Once a month, check for empty shampoo bottles and soaps that need to be replaced.  Gather all those infamous hair ties that somehow found their way into the abyss, and put them back in their place!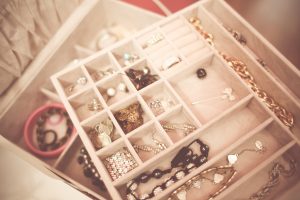 Bedroom
A major cause of lost sleep is stress.  A major cause of stress is clutter.  See where I'm going with this?  Can the Clutter in the bedroom, and you'll find your sleep to be much more satisfying and uninterrupted.
Don't take your work to bed with you.  If you tend to read emails, go though mail or prepare for tomorrow while laying in bed, your room can quickly become terrorized by papers, envelopes and (UGH!) piles!  Not to mention your pre-occupied brain is going to have trouble tuning out for the night.  If you don't have a home office, have a designated area for office supplies and mail – preferably NOT in the bedroom.
Keep your clothes under control.  You're not a teenager anymore.  You don't get to throw everything on the floor and hope the magic laundry fairies pay a visit.  Even if space is limited, having a system is key.  Hang like items together…tee-shirts, work shirts, sweaters, etc.  Having matching hangers may sound cosmetic, but when something is aesthetically pleasing, you're more likely to keep it organized.
Kid's Room
This topic could be a book in itself.  Take a deep breath and come to terms with the fact that kids have a lot of junk (ahem…stuff).  An alarming percentage of that stuff is a mystery.  Where did all of those stuffed animals come from?!  There are a lot of organizational tools, gadgets and systems for kids' room, and I won't get into them here.  For now, take these two bits of advice:
Teach kids organization.  Let your kids be in charge of their chaos.  If they want to keep all of those happy meal toys and birthday party favors, let them know they are responsible for finding a place for them.  Give them one bin for such items.  When the bin is full, they have some choices to make. (Speaking of party favors, if you send my kid home with a kazoo and a whistle, your kid is getting lizard for their next birthday…cage and all.)
Limit the amount of stuff in the first place.  Gift experiences, rather than toys on birthdays and holidays.  Throw a no-gifts birthday party, and ask for a charitable donation in your child's name.  Do a book exchange in place of gifts.  Everyone gets something, so it doubles as a party favor, too.  No plastic whistles!  Win-win!
Room-by-room decluttering can make getting organized much less daunting.  Tackle one room every couple of weeks, and be sure to set up systems that make sense for you and your family for the long run.  If you need more ideas or have unique space challenges, contact us today, and we can help you come up with a plan of action!