Recently, while organizing some old children's books, I came across a gem, The Berenstain Bears: Think of Those in Need by Stan and Jan Berenstain.  The cover of the book shows the famous Bear family standing in a heap of stuff with nervous looks on their faces.  I decided to re-read the book and found that Mama bear teaches a valuable lesson not only in decluttering, but also in doing good deeds.
The book starts off by creating an image of the Bear family as the iconic American family.  They are outside enjoying a picnic on a sunny day.  They're a busy family, but they take the time to enjoy the good things in life…"a snug tree house and a comfortable chair before a crackling fire…books and music…toys and games…quilts and cuckoo clocks."  There's just one problem, discovered by Mama Bear, who oversees the tree house, "a problem that came under the heading of Too Much Stuff."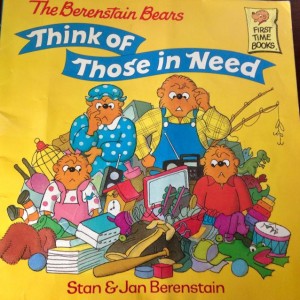 After the realization that there's a problem, the Bear Family goes through the typical stages of dealing with issues.  Mama Bear worries herself so deeply over the clutter, that she actually has a nightmare that the stuff comes to life and chases her, chanting, "Too much stuff! Too much stuff!"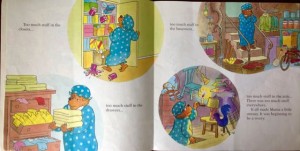 Next, she calls a family meeting to address the situation.  I would say it's a pretty typical scenario.  Mama Bear says there's a problem; Papa, Brother and Sister all point fingers at who's to blame for the overflowing tree house.  Once they finally agree that they are all guilty of hoarding "old puzzles, games that nobody plays…zillions of old fishing magazines," and "bits of yarn and cloth" that will never be used, they decide they need a plan.
Papa Bear, along with the cubs, declares they should have a yard sale and make some cash (probably to buy more stuff).  But Mama, has another idea.  Here's where her expert decluttering and do-gooder qualities come out.
Step 1: Make piles.  In one pile, "old board games and puzzles." In another pile, "forgotten but still good toys and sporting goods."  In the third pile, "clothes, furniture, extra cookbooks and unused fishing rods."
Step 2: Stuff everything into the family's awesome red convertible.
Step 3: Visit the Old Bears' Home.  Distribute puzzles and board games to older bears, who are sometimes "a little lonely and bored."  Sit down, and play games and do puzzles with them.
Step 4: Visit the Beartown Young Cubs Hospital.  Donate the load of used toys to the sick or injured cubs, who need a little cheering up.
Step 5: Drop the household items off at the Beartown Bears Who Care store (i.e. Salvation Army), and don't forget to put a dollar in the big iron pot on your way out.
I think this story is a good representation of how we all feel when faced with an overwhelming task like decluttering our entire homes.  There might be worry, fear, anxiety and even blame, and those are perfectly normal feelings in these situations.  As a Professional Organizer, my job is to be the Mama Bear for your organizing challenges.  I can help you get passed the worry and shame, and come up with a plan (that often involves piles), and maybe even a good deed or two.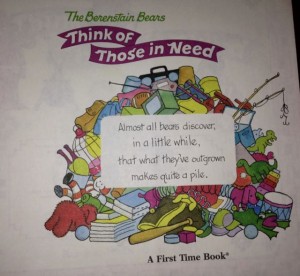 Ultimately, my goal is to help you eliminate the stress and worry that so often comes with clutter.  Like the Bear Family, think of how good it feels when the job is done.  After all, on the way home from their three visits, they passed the Beartown Department Store.  As tempting as it was to see "window after window of new toys and games, new things for the house, and the very latest in fishing poles..", the Bear family was so filled with the joy of helping others that they hardly noticed these things…"except maybe out of the corners of their eyes."