Paperwork can be a real nuisance.  It's a common struggle for many Can the Clutter clients, whether individuals, families or small businesses.   With more and more companies and individuals striving to go paperless, it always amazes me how much paper we still have cluttering our living and working spaces.  Paperwork comes in many forms.  Whether it's tax records, schoolwork, mail or just everyday paperwork, there's a system that will work for you.
Make Decisions
The first step in paper organizing is making decisions.  Before you can file, you need to purge.  For help deciding what to keep and what not to keep, check out this article When to Purge Paperwork.  Now that you're staring hopelessly at your piles of papers deemed worthy of retaining, it's time to organize!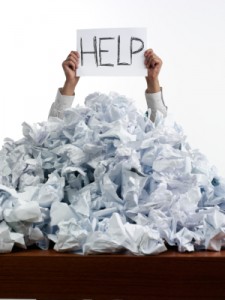 Useful, Affordable Favorites
This list includes some of our favorite paper organizing tools at Can the Clutter.  Not only are they affordable and easy to install, but many are also portable and decorative.
1.  Hanging Folders let you sequence and rearrange clusters of paper.  They are good for long term storage, and fit in a box or cabinet.  ($19 smead.com)
2.  Pocket Folders open to show off papers.  They are good for sharing up to 20 pages of paper in a meeting or event.  ($2 officedepot.com)
3.  Document Boxes consolidate mismatched papers in one spot.  They are good for archiving kids' schoolwork or art or gathering parts of a completed project.  ($15 ikea.com)
4.  Binders group together papers in a single volume.  They are good for protecting papers on a single topic or with a similar purpose.  ($11 mead.com)
5.  Expanding Files organize papers over the course of a time period.  They are good for sorting coupons or receipts by date.  ($10 containerstore.com)
6.  Pouches allow you to transport papers.  They are good for projects that involve paper and other minimal supplies.  ($3 containerstore.com)
7.  Magazine Holders stand up magazines and other sturdy publications.  They are good for displaying items by title or topic.  ($7 containerstore.com)
8.  File Folders gather papers for specific topics.  They are good for organizing a cluster of like papers.  They can be paired with hanging folders.  ($14 for 100 staples.com)
9.  Letter Sorters provide a visual reminder for mail that requires action.  They are good for sorting everyday mail.  ($12 seejanework.com)
10.  Letter Trays are horizontal letter sorters.  They are good for filing papers by their required action: pay, respond, file, shred, etc. ($7 office depot.com)
Many of these solutions can be used in combination with one another to come up with a unique system that meets your needs.  Our Professional Organizers at Can the Clutter can help you visualize the most efficient and aesthetically pleasing system for your space.  Contact us anytime for a consultation.